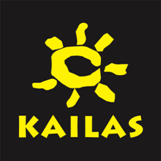 Kailas
3f, guangken comm bldg II, 68 yueken rd.,tianhe dist.,
Guangzhou, , 510507
Connect with Kailas on Social Media
---
Available videos
Company Description
About Kailas
Kailas, a brand focused on mountaineering and rock climbing. Offering a complete range of alpine and rock climbing gear in Asia.
Devoted to developing revolutionary- ultralight products, to asist climbers in moving faster, higher, and further.
We
promoting high-altitude mount
aine
ering and sport climbing globally and are now the main sponsor and sole climbing gear supplier of international federation of sport climbing.
Made to climb" is our mission statement and refers to a positive and ambitious attitude on life. "Made to Climb" think not about the summit but about the companionship and scenery along the way. In the decision between life or death, as we continue to climb, we find our true self.